Thin Edge New Music Collective believes that contemporary music is a powerful medium which has the ability to comment and reflect on modern society in aunique and poignant way. Descr
ibed as "..a unique and exciting formation that fascinates its audiences with a synthesis of utmost precision and unrivaled vitality."(Michael Quell, Composer -Fulda, Germany), and "One of Toronto hottest and bravest new music collectives" (Michael Vincent - Musical Toronto), TENMC was founded in 2011 by co-artistic directors, pianist Cheryl Duvall and violinist Ilana Waniuk. Since its inception, TENMC has grown to include 13 of Canada's brightest emerging performers and is passionately dedicated to supporting their peers through commissioning and performance, bringing innovative and eclectic 20th and 21st century music to audiences both existing and as yet untapped.

TENMC has been responsible for c
ommissioning and premiering numerous compositions by emerging composers from Canada and abroad including 7 more over the course of their upcoming 2015/2016 season. In addition to presenting a Toronto based concert series, TENMC has participated in artistic residencies at the Banff Centre and Avaloch Farm Music Institute New Music Initiative and performed on concert stages across Canada including the University of Calgary's Happening Festival of New Music and Media, as well as been presented by Ottawa New Music Creators, Kitchener Waterloo Chamber Music Society, New Works Edmonton, New Music Calgary, Music on Main and The Little Chamber Music Series that Could in Vancouver, Open Space in Victoria, University of Guelph, Wilfrid Laurier University, University of Manitoba, The Music Gallery in Toronto and most recently as part of the NUMUS Emerging Artist Series in Waterloo.  Keys, Wind and Strings, a touring concert project of TENMC, was featured as ensemble in residence at the SoundSCAPE festival of new music in Maccagno, Italy in July 2013, and participated in a residency/concert project in July 2014 at Le Pantographe in Moutier, Switzerland. In Nov 2015 with generous support from the Canada Council for the Arts, TENMC had the privilege to perform in Argentina as part of the Ciclo de Música Contemporánea at the Teatro Nacional Cervantes in Buenos Aires.
---
Upcoming Events:

New circus and new music collide in boundary pushing, radical circus performances featuring special guest, DJ P-Love and a cast of 40 local artists!
'Balancing on the Edge' (BOTE) is a collaborative production between Thin Edge New Music Collective and
A Girl in the Sky Productions
presented in association with Harbourfront Centre, which will explore via a deeply integrated relationship between contemporary music and contemporary circus arts, the myriad of ways in which modern humanity is precariously balanced on the edge of survival and evolution. BOTE will be presented at the
Harbourfront Centre Theatre
in Toronto on Nov 18 at 8pm and Nov 19th 2pm + 8pm 2016 as part of Harbourfront's
NextSteps
series. 
Our production will feature the premiere of six collaborative works interpreting what it means to be 'balancing on the edge' through innovative new music and new circus performances. Featured circus artists include Rebecca Devi Leonard, Natasha Danchenko, Brandy Leary, Holly Treddenick, Angola Murdoch-Ladder, Diana Lopez, Rebecca Carney, Emily Hughes, Emmanuel Cyr, and Louis Barbier who will showcase a wide range of circus disciplines ranging from Aerial Rock, Fire and ladder to invented apparatus and object manipulation. Our musical programme includes works by John Cage, Iannis Xenakis, David Lang, and Montreal-based Nicole Lizée, with world premieres by California-based Scott Rubin and Toronto's own Nick Storring. BOTE will feature lighting design by Joe Pagnan with live projections by Evan DeRushie and video by Jason J Brown. Balancing on the Edge aims to investigate what it means to be pushed to the limit from a wide range of perspectives through a fascinating synthesis of theatre, dance, multi-media, new music and new circus.


BOTE is presented in association with Harbourfront Centre:

Harbourfront Centre NextSteps Dance Series
Harbourfront Centre Theatre, 231 Queens Quay W

November 18th 8pm
November 19th 2pm + 8pm

Ticket Prices:$15, $28,$35
(25% discount on groups of 10 or more)*

* Contact the Harbourfront Centre Box Office for more details: 416-973-4000
   
Please visit TENMC's balancing on the edge page or www.balancingontheedge.com to find out more!


Show week is here! When not performing/rehearsing, you can find the BOTE artist family hanging at Boxcar Social! Join us for some amazing coffee, wine, craft beer and bourbon!

---
Thin Edge New Music Collective and Balancing on the Edge would like to thank our generous sponsor:

---
 Balancing on the Edge is presented with generous support from:
The Canada Council for the Arts, Ontario Arts Council, Toronto Arts Council, Harbourfront Centre NextSteps Dance Series and Arraymusic. 
---
You are invited to a  Surrealist Masquerade Fundraiser in support of Balancing on the Edge!
Thin Edge New Music Collective and A Girl In the Sky Productions invite you to come masked and dressed as your 'balancing on the edge' alter ego! Eat, drink and enjoy a strange and beautiful night of art, entertainment and interesting characters. All proceed of this event go directly to productions costs for this innovative and ground-breaking production!
Friday, September 23rd, 2016 8pm-11pm
Collective Space, 221 Sterling Rd. Unit #5
Featuring performances by:

Angola Murdoch
Natalie + Lara
Mary Margaret Scrimger
Akilanda Collective
Hercinia Arts Collective
Louis Barbier
Thin Edge New Music Collective

Video Art by Jason J Brown
Illuminations by Sonja Rainey
Pay what you can - Suggested donations $100 general/$25 Artsworkers, Students, Seniors
For more info on Balancing on the Edge please click here!
---
The Music Gallery and Intersection present
Elliott Sharp + Thin Edge New Music Collective + Soupcans
Part of the Departures Series
Friday, September 2
Doors: 8:30pm | Concert: 9pm
Soybomb, 156 Bathurst St.

Tickets: $15 Regular | $10 Members/Students |$12 Advance at musicgallery.org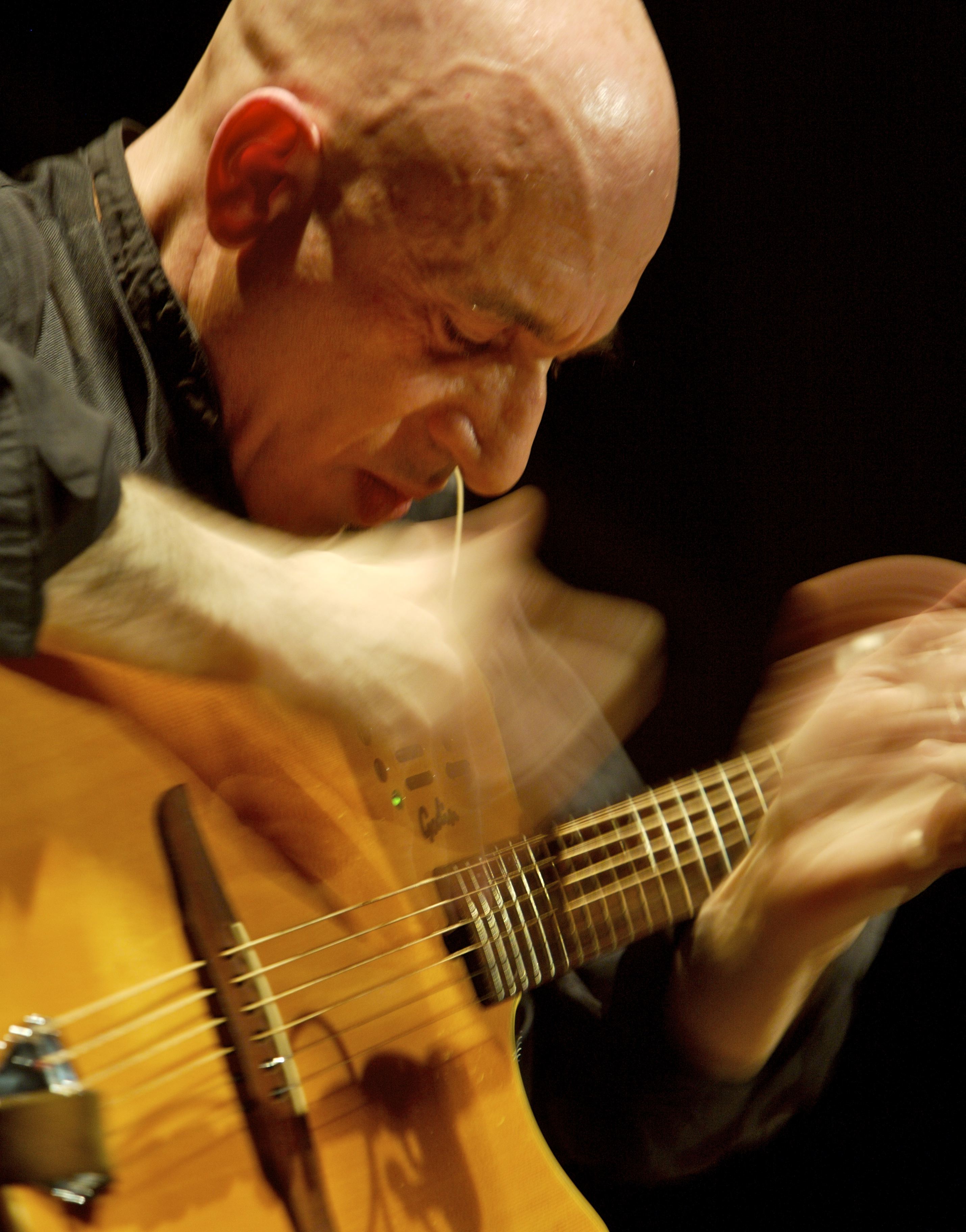 Elliott Sharp remains one of the key artists who arose from New York's downtown scene of the 70s and 80s, having made his mark in improvisation, no wave and punk. He has also invented his own insanely complex musical systems that pioneered the use of fractal geometry, chaos theory, and genetics in musical composition and interaction. His unique path has led him to stunning collaborations with Debbie Harry; Frankfurt's Ensemble Modern, Nusrat Fateh Ali Khan, Hubert Sumlin, Pops Staples, Cecil Taylor, Christian Marclay and Bachir Attar, leader of the Master Musicians Of Jajouka. Sharp plays solo here.
Sharp's chamber compositions are less known than his superhuman guitar work, and Thin Edge New Music Collective steps up to the plate to untangle them for Toronto audiences. 
Soupcans, in their own words, are "gooey-gross bass cranking out yucky, warbled sounds, stripped-down drums pumped with wild, impotent abandon, guitar tones like shards of glass in the webbing of your toes and broken occult throat gurglings calling to Cthulu. Soupcans will play your birthday or bar mitzvah."






Join us at 9PM for a panel discussion moderated by Jerry Pergolesi of Contact featuring Sharp and members of Thin Edge: what role does contemporary classical music play in the worlds of popular & rock music & vice versa? In a world where musical forms & genre are becoming increasingly entangled, where do we see new music in the future?
Program:
Light in Fog (10 min) String Quartet
Flexagons (20 min) String Quartet and percussion
Hommage James Tenney (6-7 min) String Quartet
Mare Undarum (20-25 min) String Quartet + Elliott Sharp


Thin Edge New Music Collective:
Ilana Waniuk + Suhashini Arulanandam – violins
Rachael Abramoff – viola
Dobrochna Zubek – cello
Nathan Petipas – percussion
Cheryl Duvall-piano

RSVP: Facebook

---
September 15th + 16th, 2016
Join TENMC and special guest soprano Charlotte Mundy for a 2 day festival in  celebration of Morton Feldman's 90th birthday!

Feldman Festival
Arrayspace 155 Walnut Ave


Sept 15 - 8 pm 

Morton Feldman (1926-1987) Piano, violin, viola, cello (1987)


Sept 16 - 6:30 pm
Linda Catlin Smith gives a talk on Morton Feldman's life and musical legacy.


Sept 16th-8 pm
Linda Catlin Smith (b.1957) Ribbon (2001) -piano, violin, cello
Barbara Monk Feldman (b.1950's) The Northern Shore (1997)-percussion, piano, violin
Morton Feldman (1926-1987) Three Voices (for Joan La Barbara)(1982)-for soprano and tape

Featuring guest artist: Charlotte Mundy- Soprano



Tickets available online in advance or at the door:

Festival pass - General $36, st/sr/arts worker $26
Single ticket - General $20, st/sr/arts worker $15
Please visit our events page for more details!
TENMC's Feldman Festival  is presented  with generous support from Arraymusic, and the Ontario Arts Council. 
---
Thin Edge New Music Collective is deeply honoured to have been chosen to continue our role as an Ensemble-In-Residence at Arraymusic for our 2016/2017 season. Arraymusic has not only been at the vanguard of contemporary music making in Toronto for over four decades but has also been a staunch supporter of established and emerging Canadian composers as well as fostering a rich variety of art and music making through innovative programming and the existence of Array Space. Array Space provides an invaluable resource as a venue for performance and rehearsal to a diverse array of artists in the GTA. As an emerging ensemble/concert presenter TENMC has looked to Arraymusic, one of Canada's premiere contemporary music organizations, as a role model in terms of innovation, quality of production and their incredible work fostering community within the arts in Toronto. We're thrilled to accept this wonderful opportunity and look forward to continuing to share the fruits of our residency with you over the course of our 6th season!
---
Visit our Events or  2016/2017 Season page to find out more about what's in store for TENMC's upcoming 6th season!